The founders of Camp Trend are on the road.
They sold all their possessions, built a camper, and are currently living the camp life full time. You can follow their adventures on the blog –

Camp by Camp

. 
If you haven't checked it out yet, here's a preview of what you're missing:
There comes a point where you just have to do it.
If your life is not aligning with what you know you should be doing, make a change.
We could endlessly debate the logistics, risks, failures, and rewards for said decision… But in the end, there really is only one way to find out.
It began with a simple enough idea.
We'd save some money, sell everything we couldn't take on the road, and then build a camper. In reality, none of these things were as simple as we thought.
The definition of the word adventure reads: "an unusual and exciting, typically hazardous, experience or activity." For what we've experienced so far, this couldn't be more true. And for anyone who pursues their own adventure, the rewards that come as a result of extraordinary efforts are more than worth any hardships or hazards.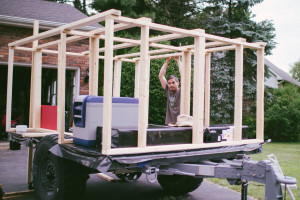 While this pursuit of camp life is deeply personal for us, we want this journey to mean something for our readers as well.
It's our mission to seek out and deliver you guys the very best of camp life and road adventures.
In addition to documenting our own travels, we would love to join you on some of your incredible trips.
Leave us a comment below or contact us so we can get out there and discover the world together, camp by camp.
-Mark & Nives, founders camptrend.com