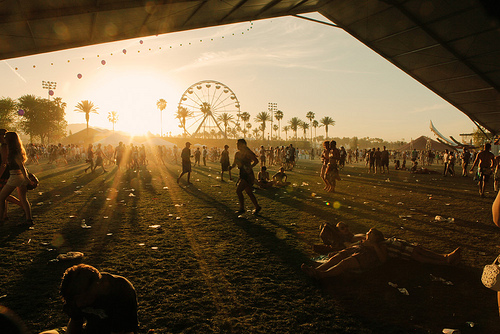 Since its inaugural debut in 1999, Coachella has seen its share of ups and downs but has radically improved on its overall atmosphere and entertainment selection over the last decade.
Coachella is best known for showcasing a diversity of well known acts, ranging from Pearl Jam to Paul McCartney and The Beastie Boys to The Black Keys, while at the same time including hip hop artists such as Jay-Z and Wu-Tang Clan as well as EDM powerhouses Daft Punk and Wolfgang Gartner.
This year's festival will take place over two separate weekends (April 11-13 and April 18-20) and will feature the music industry's top performers such as Pharrell, Skrillex, Lorde, MGMT, and dozens of other bands, DJs, and hip hop artists.
Coachella Camping
[funky_quote ] Perhaps the most overlooked aspect of this festival is the official camping experiences Coachella has to offer [/funky_quote]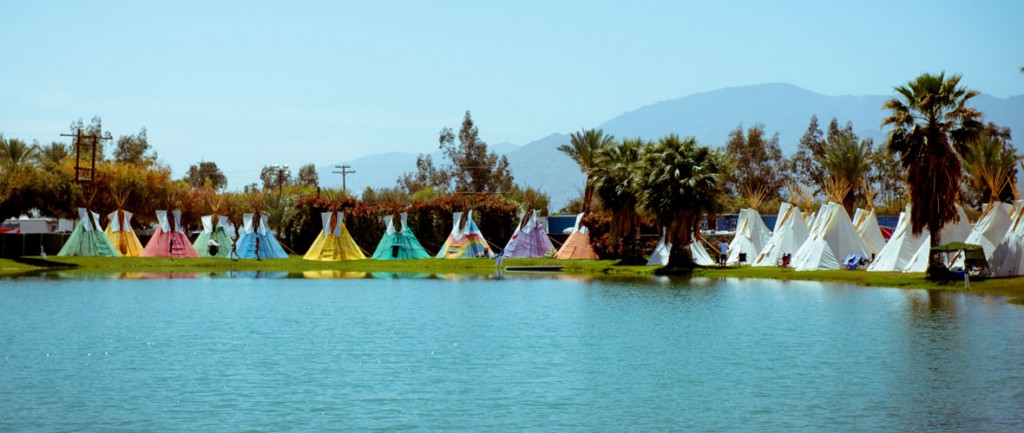 On-site campers can select to reserve 2-person Tee Pees or 4-person tents at the Lake Eldorado campgrounds. This campsite includes amenities such as 24-hour concierge service, free mobile showers, and lakeside shade sails and benches for group hangs.
Another popular on-site camping option is the Safari Tent campsite, which also includes restrooms and showers, air conditioning, shuttle service, and dedicated security.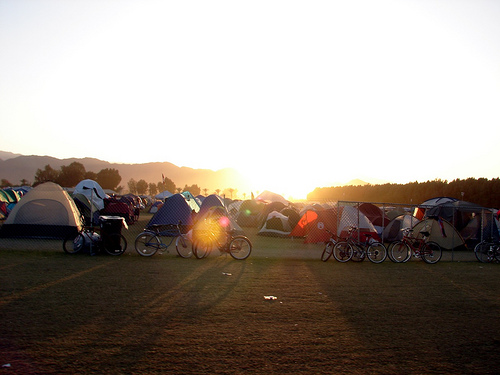 For the more cost-minded attendee, fans can reserve RV and tent camping locations at many of the official off-site camping grounds, which has access to natural lakes and hot springs as well as picnic and fire areas. These off-site camping grounds range any where from 2-31 miles away from the festival grounds but offer more of a peaceful and authentic camping experience for those who want to enjoy the music festival while being able to enjoy the surrounding natural beauty outside of Indio, CA.
With its increasing popularity and a magnitude of memorable experiences for both music and camping aficionados, this years Coachella Valley Music and Arts Festival is the one event you won't want to miss.
*Are you attending the 2014 Coachella Valley Music and Arts Festival? Be sure to share your pictures and stories with CampTrend on our Facebook page (facebook.com/camp.trend), Twitter (@camptrend #camptrend), and Instagram (@camptrend)[funky_divider][funky_third]
Festival Info
Takes place April 11-13, April 18-20 in Indio, CA.
Tickets – sold out!
[/funky_third]
[funky_third]
Lineup
Headliners include Outkast, Muse, Arcade Fire. Other notables include Girl Talk, Ellie Goulding
[/funky_third]
[funky_third end="true"]
Camping
Full-range of options – Car camping, tent spaces, VIP glamping packages, and off-site campground.
[/funky_third]
 [funky_clearboth]


Photo Credits
Main image - Dulce Balandran
Body image 1 - Caesar Sebastian via Flickr
Body image 2 - Coachella
Body image 3 - Forrest Lockwood via Flickr
Body image 4 - Thomas Hawk via Flickr