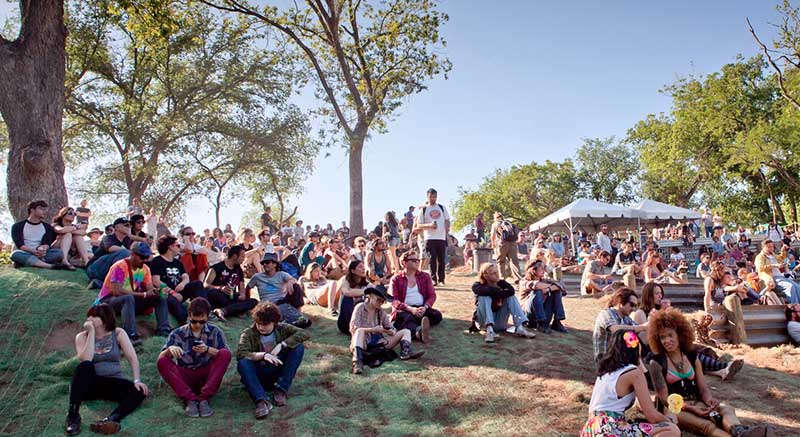 For two full days over the weekend of April 25-26, the Carson Creek Ranch in Austin, TX will play home to one of the youngest music and arts festivals in the United States.
Having debuted in 2012, its event organizers were successful in creating a lasting feel of joy and community by realizing that all people don't just listen to one style of music. With such a wide-range of genres and performance styles encompassed in the Austin and Houston areas, Euphoria has been successful in exhibiting a local feel while keeping up to date with what is prominent and fresh.
The most interesting fact about this festival is that they have no ties to any large music corporation, yet that has had absolutely no negative effect on the quality of talent they bring year in and year out ranging from funk and jam bands to EDM and live dance music performers with past years that have included Mord Fustang, Datsik, White Panda, and Baauer.
The 2014 festival will see acts such as The Crystal Method and Earphunk and headliners consisting of Zeds Dead and Beats Antique on the first night and Gareth Emery and Lotus on the second night.
Another popular feature of the Euphoria Music and Camping Festival is its inclusion of separate Silent Disco Parties. Rather than using a speaker system, a Silent Disco broadcasts music via transmitters that are picked up by wireless headphone receivers worn by the dancers and festival participants. Those not wearing the headphones will hear no music, which creates a fascinating landscape of a room or area filled with people dancing to nothing.
Euphoria Camping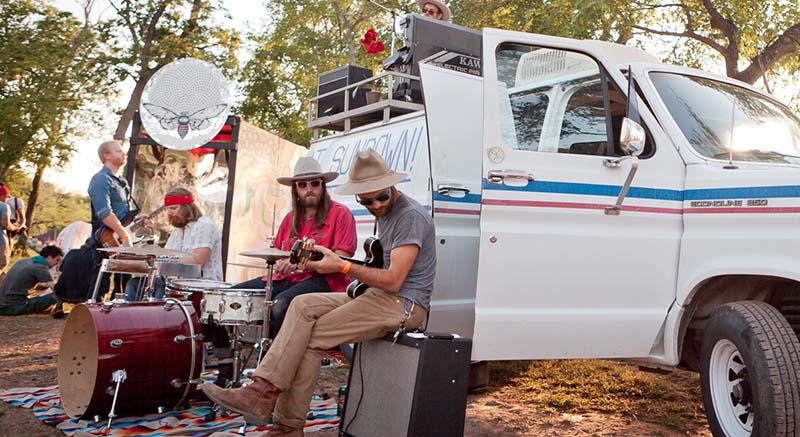 For the first time in its three-year history, Euphoria will offer General Admission and VIP camping packages to help enhance its overall experience.
Camp rentals will be available which offers luxuries such as cots to queen size beds, powered lanterns, coolers, and on-site staff. RV rentals are another choice with two options: RV Parking WITH power hookups and RV Parking WITHOUT power hookups.
Several options will be available along the banks of the Colorado River and will feature free after-hours music in the campground lounge known as the Music Bus: a fully renovated bus equipped with PA and lights for various bands and performers.
Sadly, the extreme drought during this season in Texas calls for a "burn ban", which means that fire pits, charcoal grills, gas stoves, oil lamps, and anything similar will not be allowed. The festival campgrounds also do not allow BYOB, but alcohol will be available to buy at the Campground store. In response to these strict rules, the campgrounds will offer restrooms, showers, a variety of vendors, and ATMs. Additionally, there will be free water stations in the festival and camping areas, as the organizers encourage everyone to be well hydrated.
While the Euphoria Music and Camping Festival may still be in the early stages of its lifespan, the character of its music and experience has helped put its mark on the festival scene. Other features such as Art installations and Health & Wellness workshops gives the average individual more options to enjoy and to explore choices they might not otherwise attend.
Whether you're a fan of music, art, food, and crafts or simply are looking to find some type of visionary inspiration, we're confident that everyone who attends this festival will be able to find their own brand of "euphoria".
*Are you attending the 2014 Euphoria Music and Camping Festival? Be sure to share your pictures and stories with CampTrend on our Facebook page (facebook.com/camp.trend), Twitter (@camptrend #camptrend), and Instagram (@camptrend)[funky_divider][funky_third]
Festival Info
Takes place April 25-26 in Austin, TX
Tickets – start at $79
[/funky_third]
[funky_third]
Lineup
Headliners include Zeds Dead, Beats Antique, The Crystal Method, Lotus, and Gareth Emery
[/funky_third]
[funky_third end="true"]
Camping
Available as part of a General Admission or VIP pass as well as Tent or RV rentals.
[/funky_third]
 [funky_clearboth]

Photo Credits
All images provided by Euphoria Music and Camping Festival