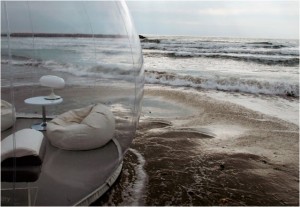 The pictures tell you everything you need to know – these are essentially transparent tents that can be set-up anywhere. If you've ever wanted to spend time outdoors but you want some protection against the elements, then the Casa Bubble may be just what you're looking for.
The "Bubbles" are freestanding spherical structures with transparent panels that allow you to feel as if you're outdoors when you're actually in a climate-controlled environment. The air pressure inside the sphere is regulated by a silent air turbine, and an airlock entrance maintains consistent pressure. For as much technology is behind these "Bubbles", you'd never know judging by the minimalist, almost invisible design.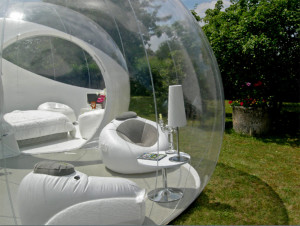 If you want to experience a night in a "Bubble" your best chance is in France, but the company tells us that they're coming soon to the USA and Canada. Visit their website for more info.
[funky_divider]