I don't pay rent, I live in a tent.
And it's bitch'n!
Working fulltime on the road with Camp Trend takes me to the best campspots in North America. Our solid gear inventory allows for adaptable setups no matter the weather/terrain and the food we make is f*cking delicious. Camping with this team maximizes our energy to enjoy the thrills of each park, forest, desert, and backcountry land chosen on the map.
TentLife is my story of living this adventure-filled perma-vacation outfitted with the best gear we currently have. Certain sacrifices must be made, but it's a badass way to travel and is my preferred lifestyle for now. In addition to my two cents', I'll give a brief low-down on the areas and comment on gear used at each campspot. No filter either, it makes for better reading.
Here's where I've been livin' recently:
Black Rock Reservoir
10 miles northeast of Balch Camp, up a one-lane cliff-hugging road (#11S12), is where you'll find Black Rock Reservoir – an area at 4500 ft that's super scenic & quiet with one hell of a fishing scene.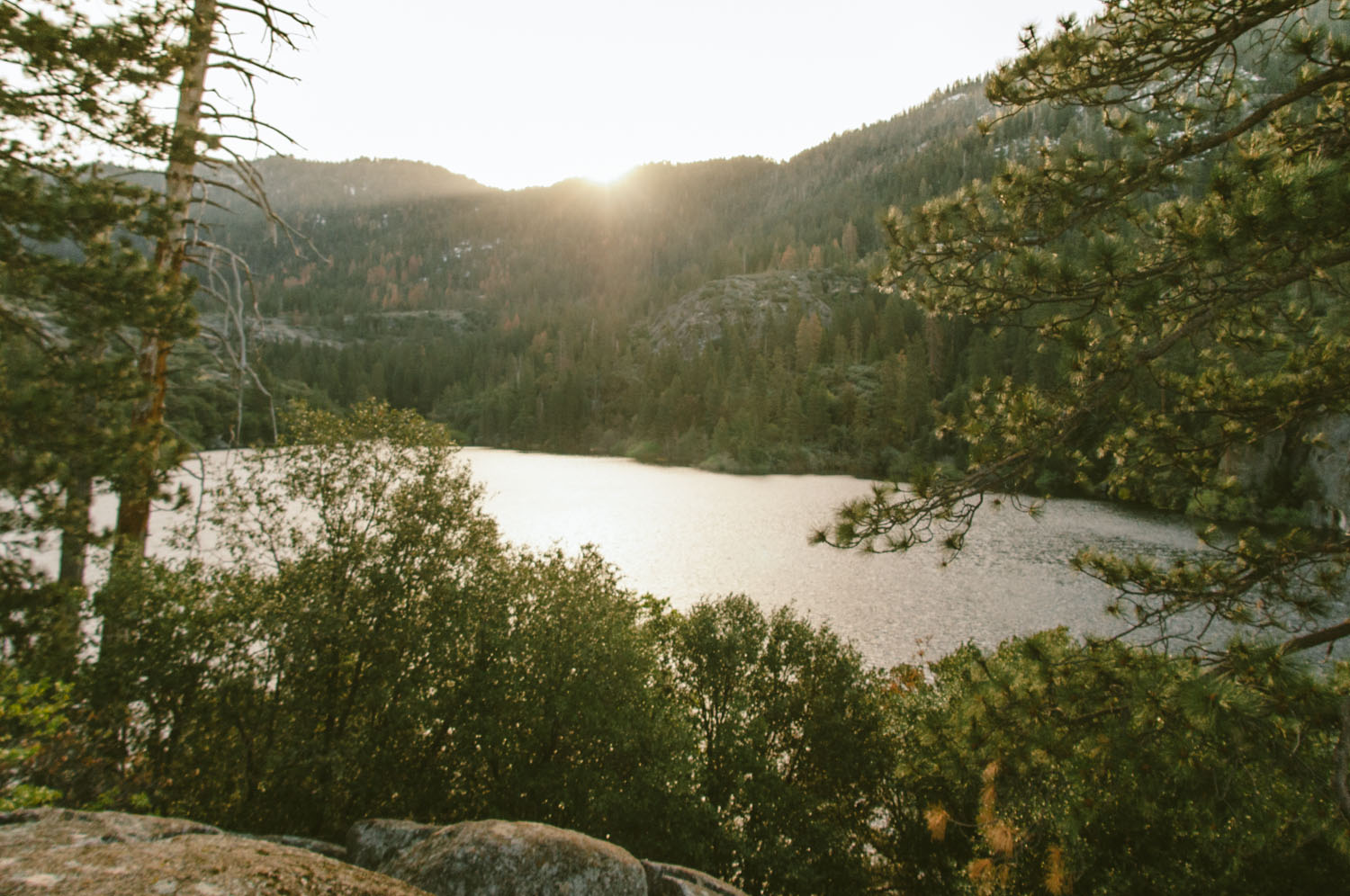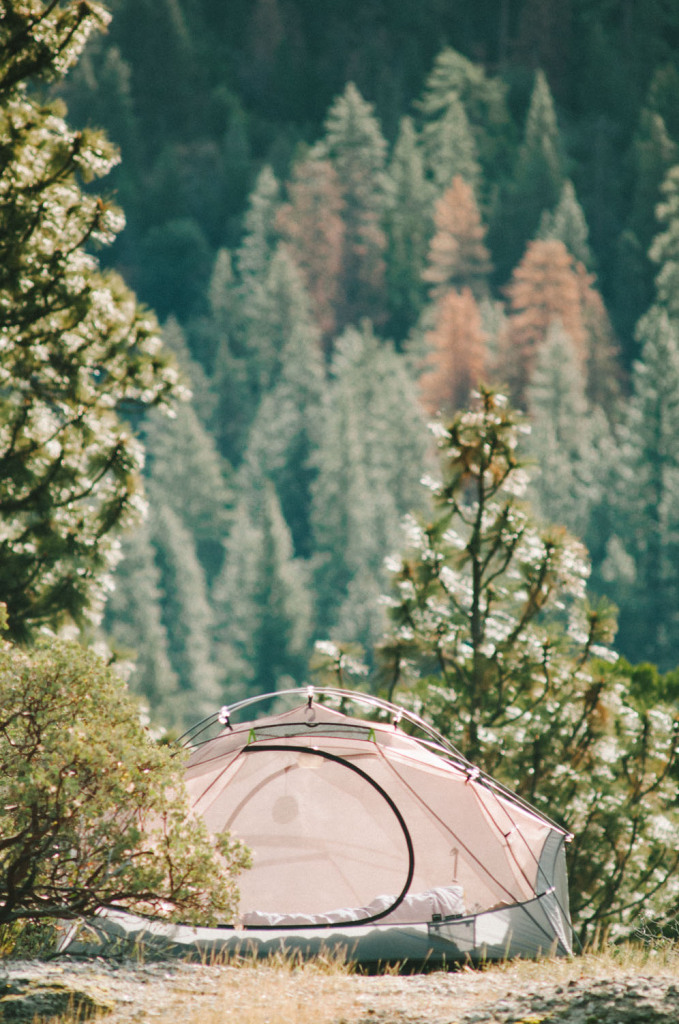 BRR is formed by dam #2 (of 3) in the Kings River Project; an impressive engineering feat in the 1950s but not without its impact to the nature.
A handful of large campsites are nearby and a bad view of the reservoir is like a tasty cowpie – doesn't exist.
There's plenty of challenging terrain for hikers, but the real jackpot is fishing – over 100+ feet of fresh water with plenty of fish visible from the campspot. In fact, the fishing was easy, need some help in the catching department though (big goose egg on this trip).
The reservoir also reminded me of the classic joke:
 -What'd the fish say when it swam into the wall?
-"Dam."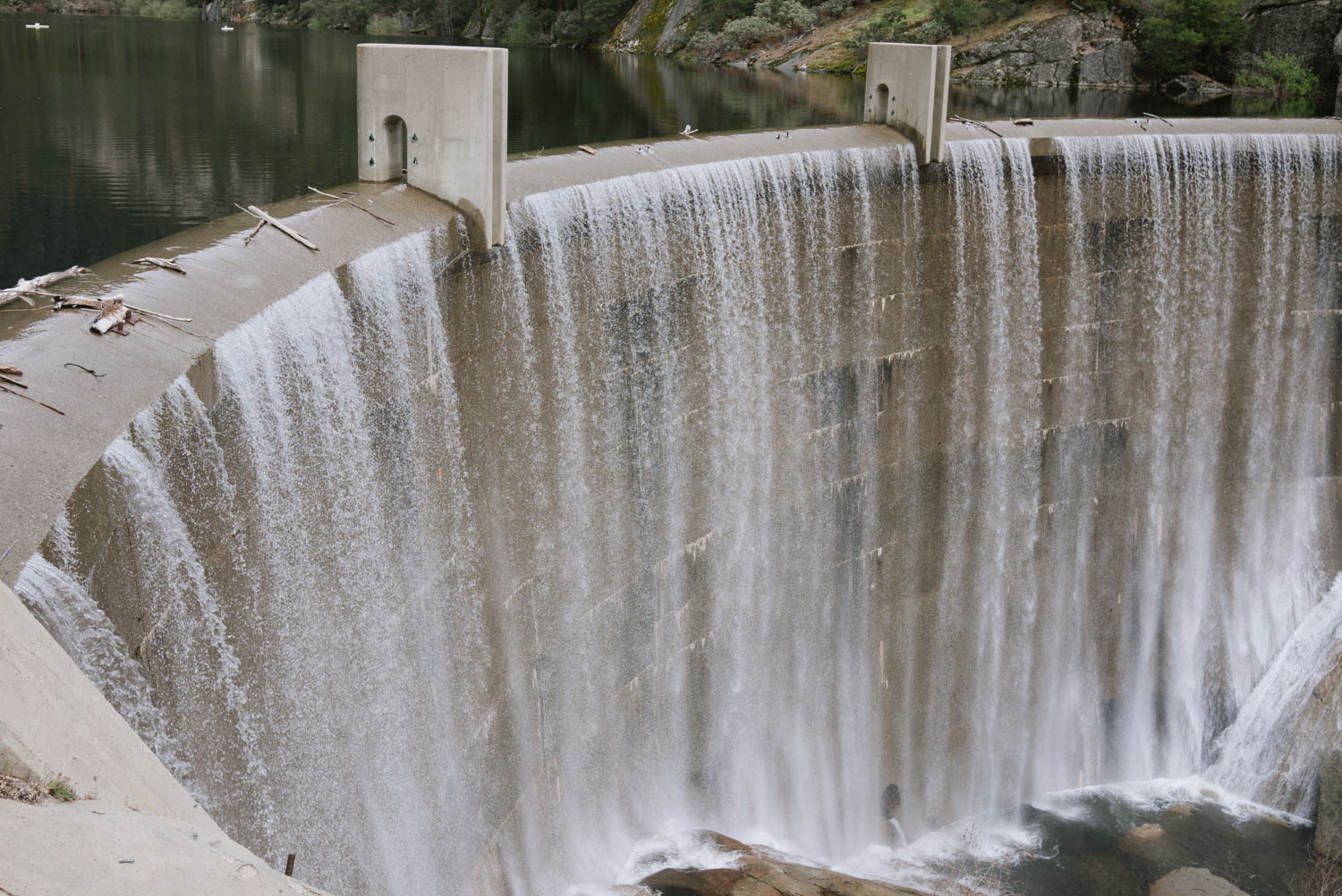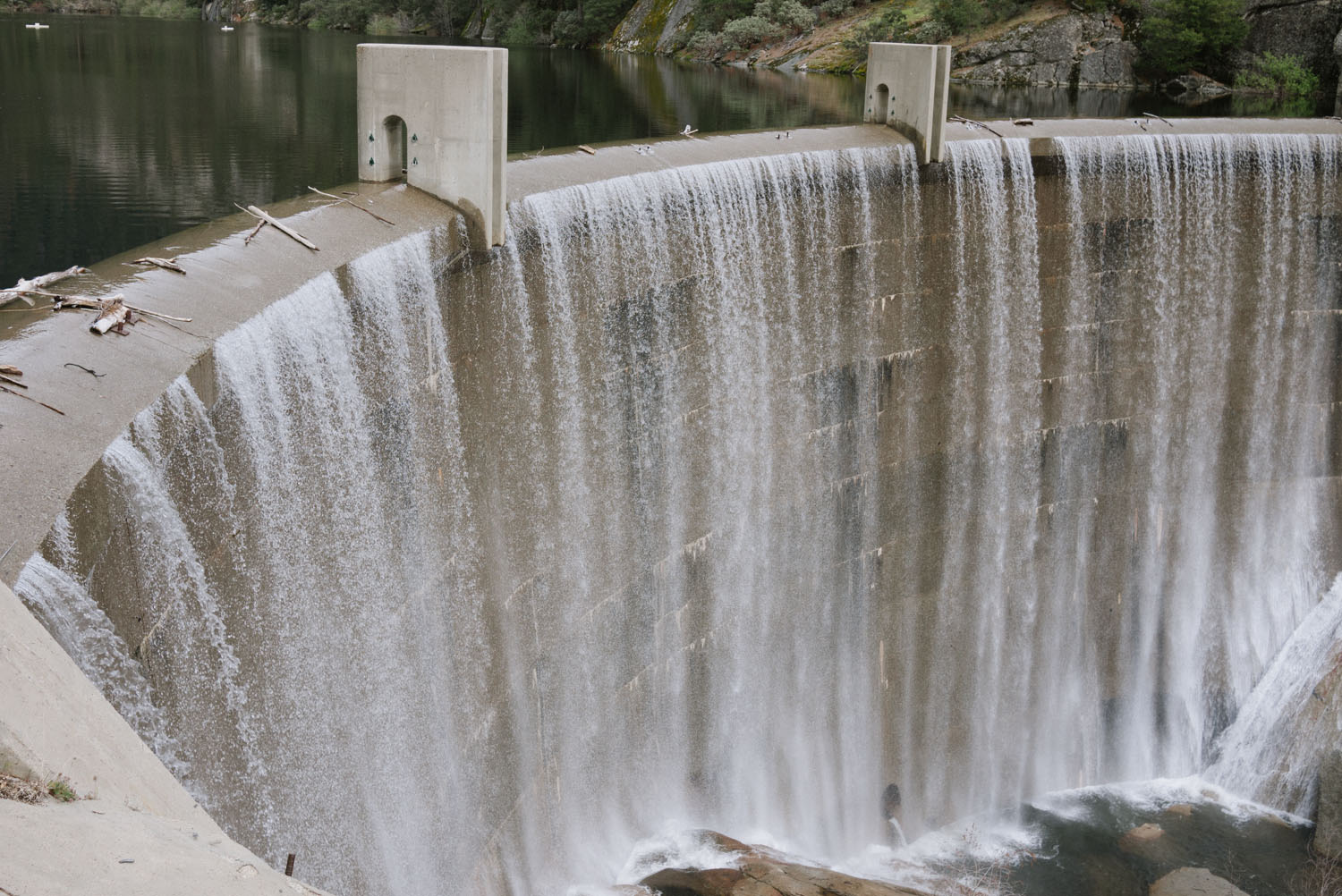 Arrived here for a few days in mid-April – high temps of 70°F during the day and down to around 30°F at night; felt like the middle of Fall with snow still visible in the mountains. Weather and temps didn't bother me at all (and no bugs!), though a few weeks earlier would have been too cold. Spring is definitely here and could imagine BRR as an ideal spot for the summer due to the swimming & fishing.
More or less, it seems like a secluded place year-round due to the somewhat dangerous drive.
Camping Options
There is an official campground located near the dam which stays open year-round. $14/per night gets you a single spot with a picnic table, fire ring, and a couple water spigots throughout.
If you're like me, exploring the surrounding areas most always turns up some better and FREE campspots. BRR is located within the Sierra National Forest so camping anywhere off of a main road is allowed for up to 14 days.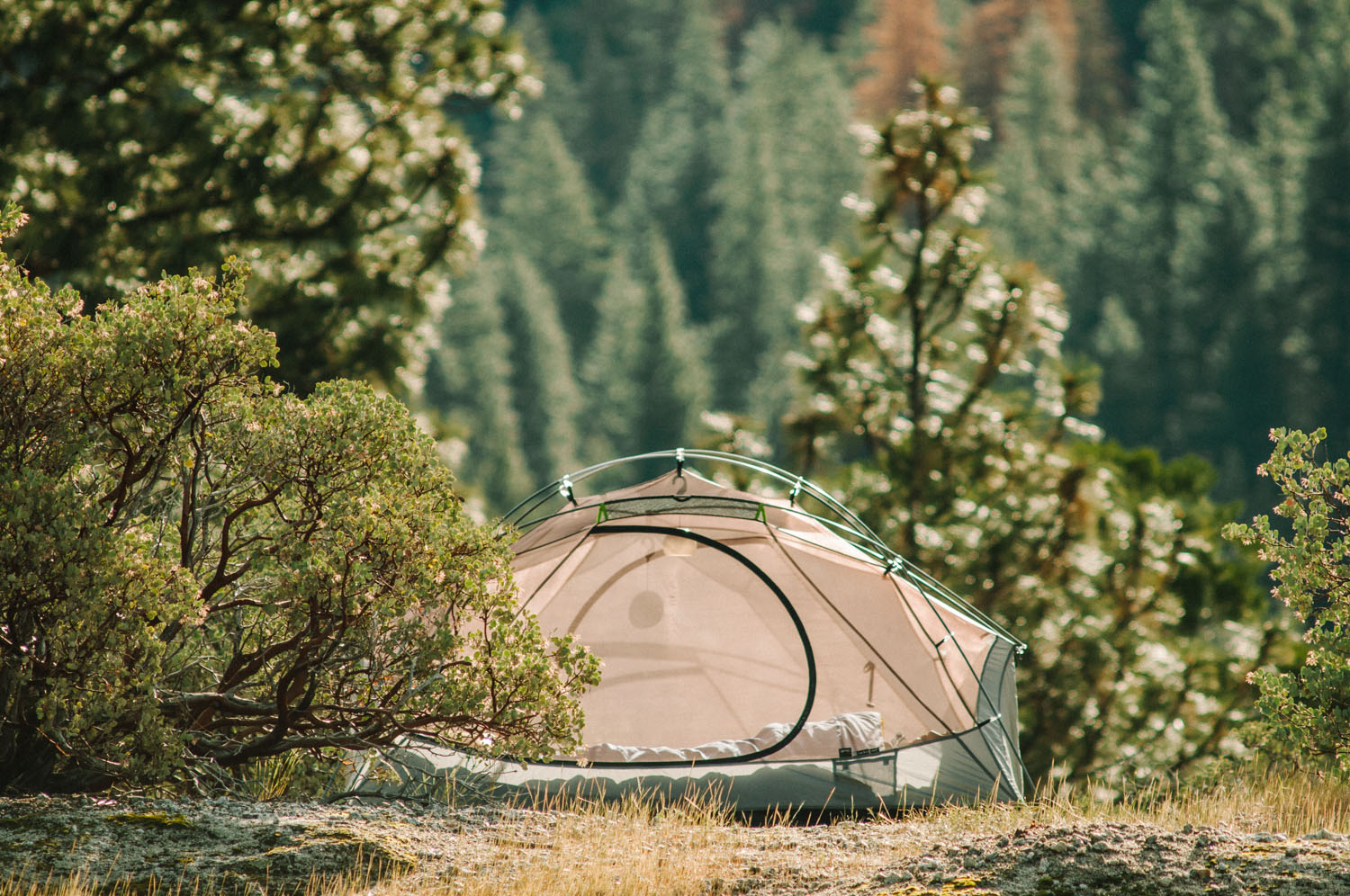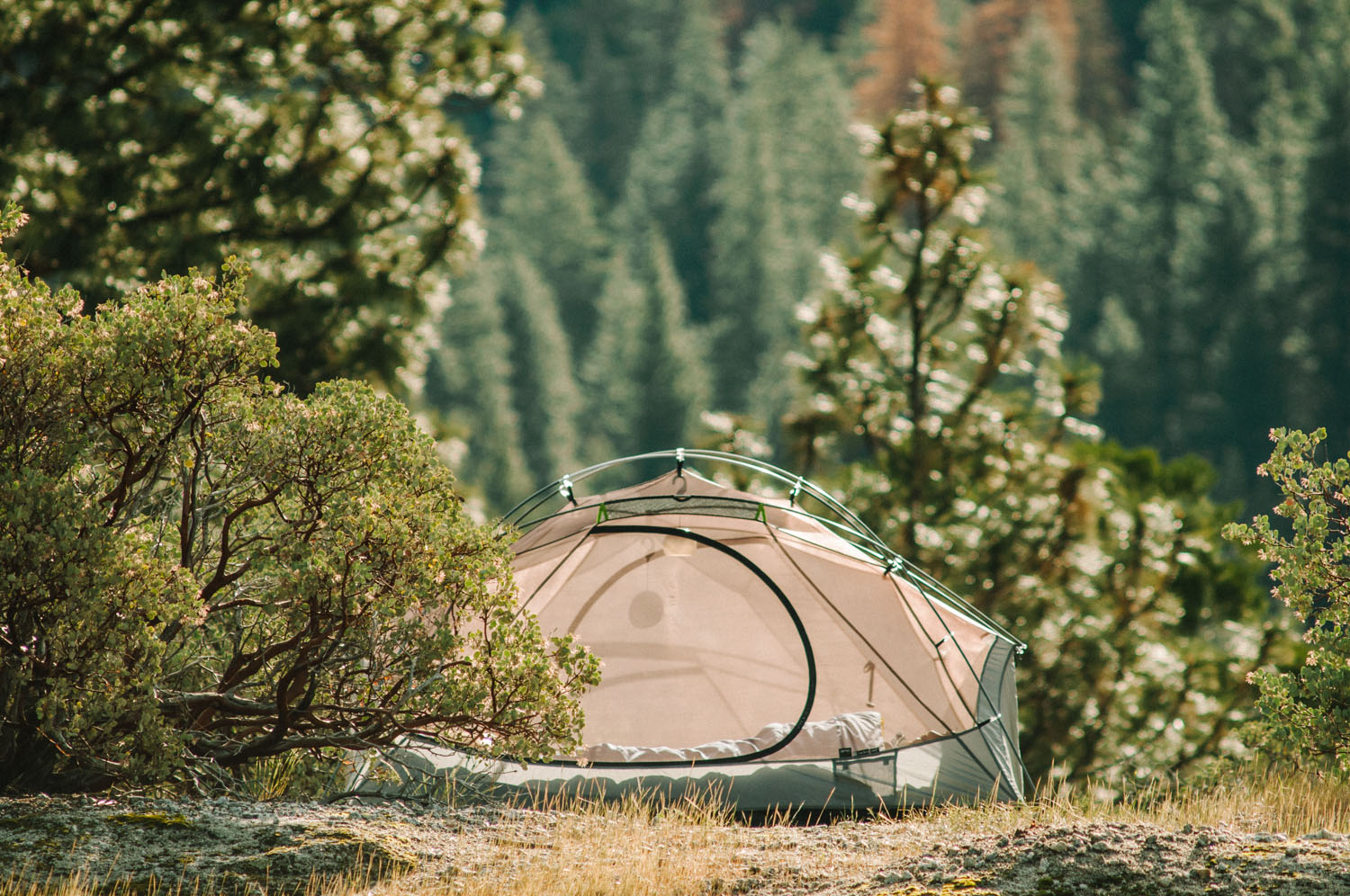 We decided to make camp next to a dirt road that sees action a handful of times per month (and probably zero traffic during the winter) with a pulloff area primarily on top of large rocks big enough for 3-4 groups. I was appx 50 feet above the water, and not more than 20 yards from my tent door was a curious Myst-like path to an excellent fishing space (ended up having a fire down there). I chose a tentspot on top of a rock with views of the reservoir and the huge pine trees – no issues with wind and a clear shot of the sunrise and dark night skies.
Tent Set-up
The Nemo Losi 2p is a preferred tent for stargazing, with no viewing obstructions in the mesh walls while preparing to clock-out for the night.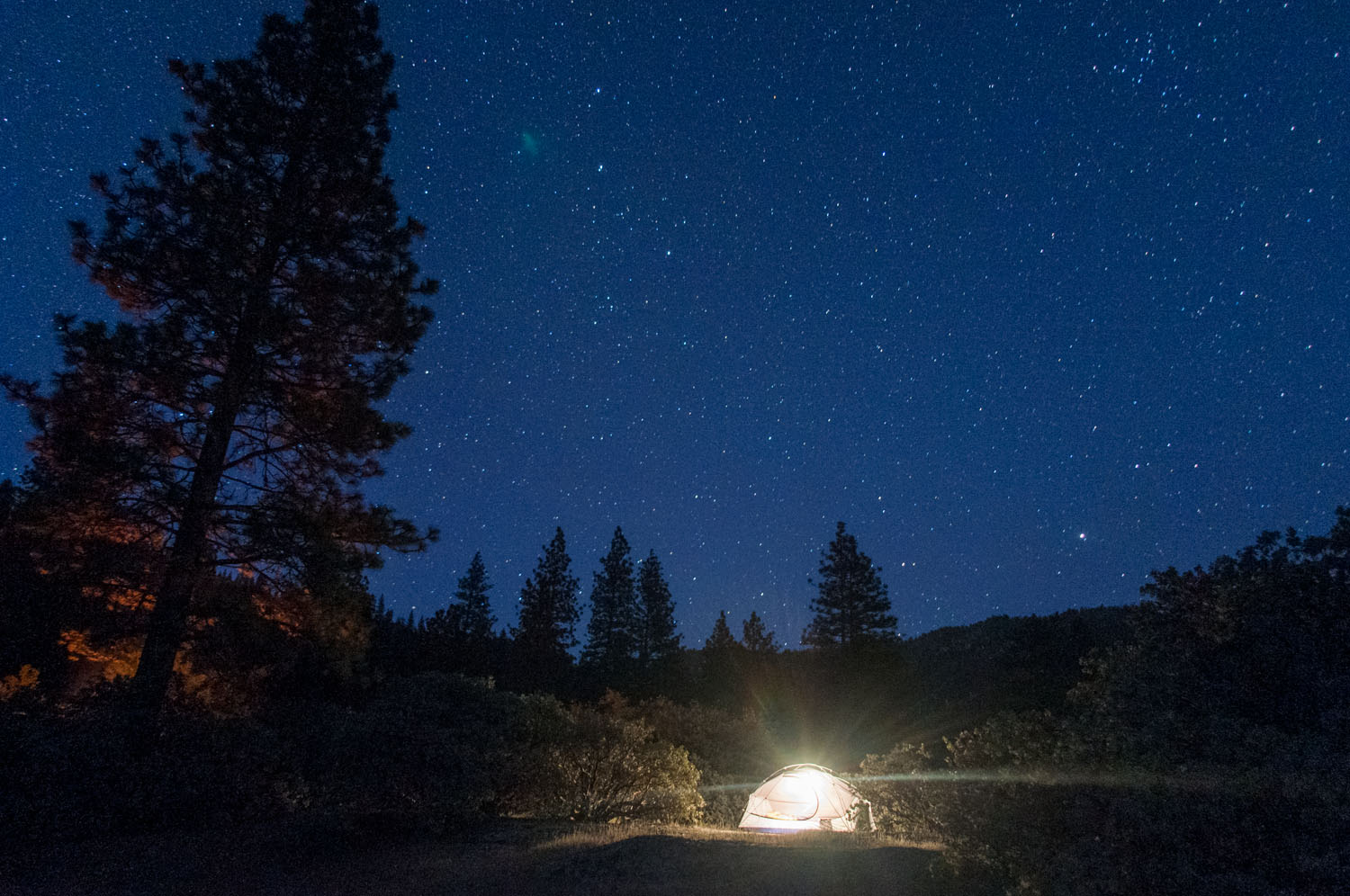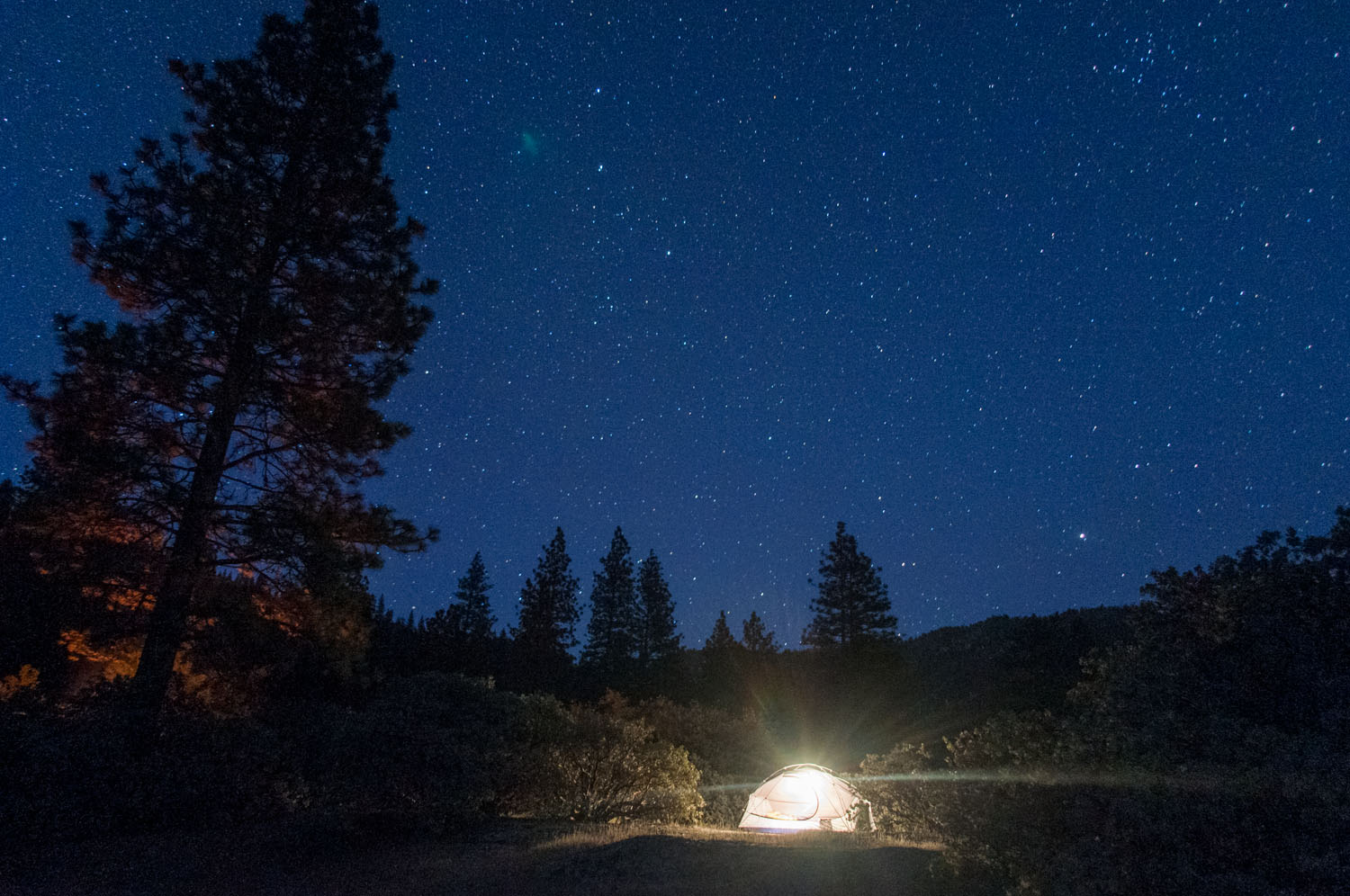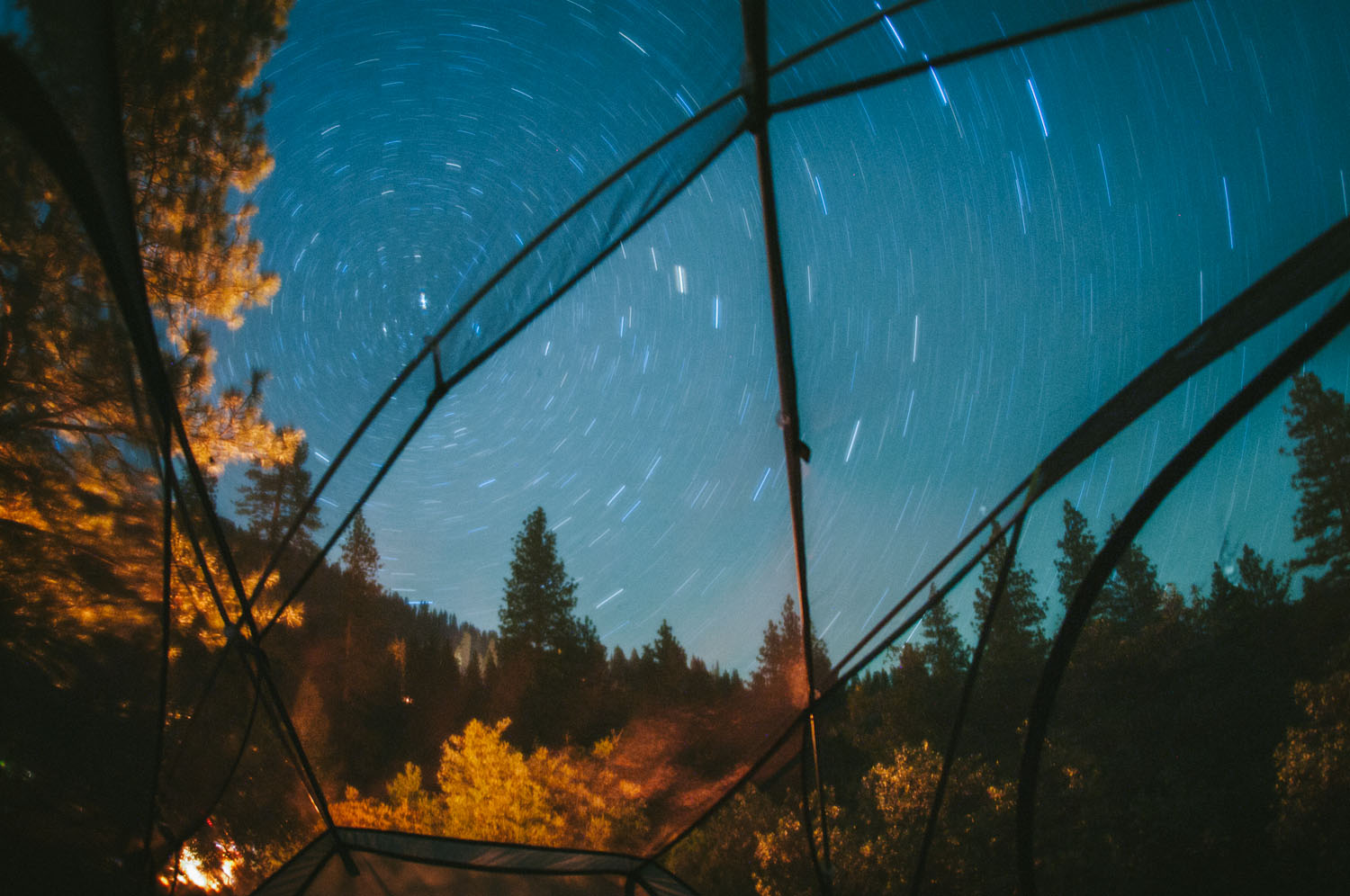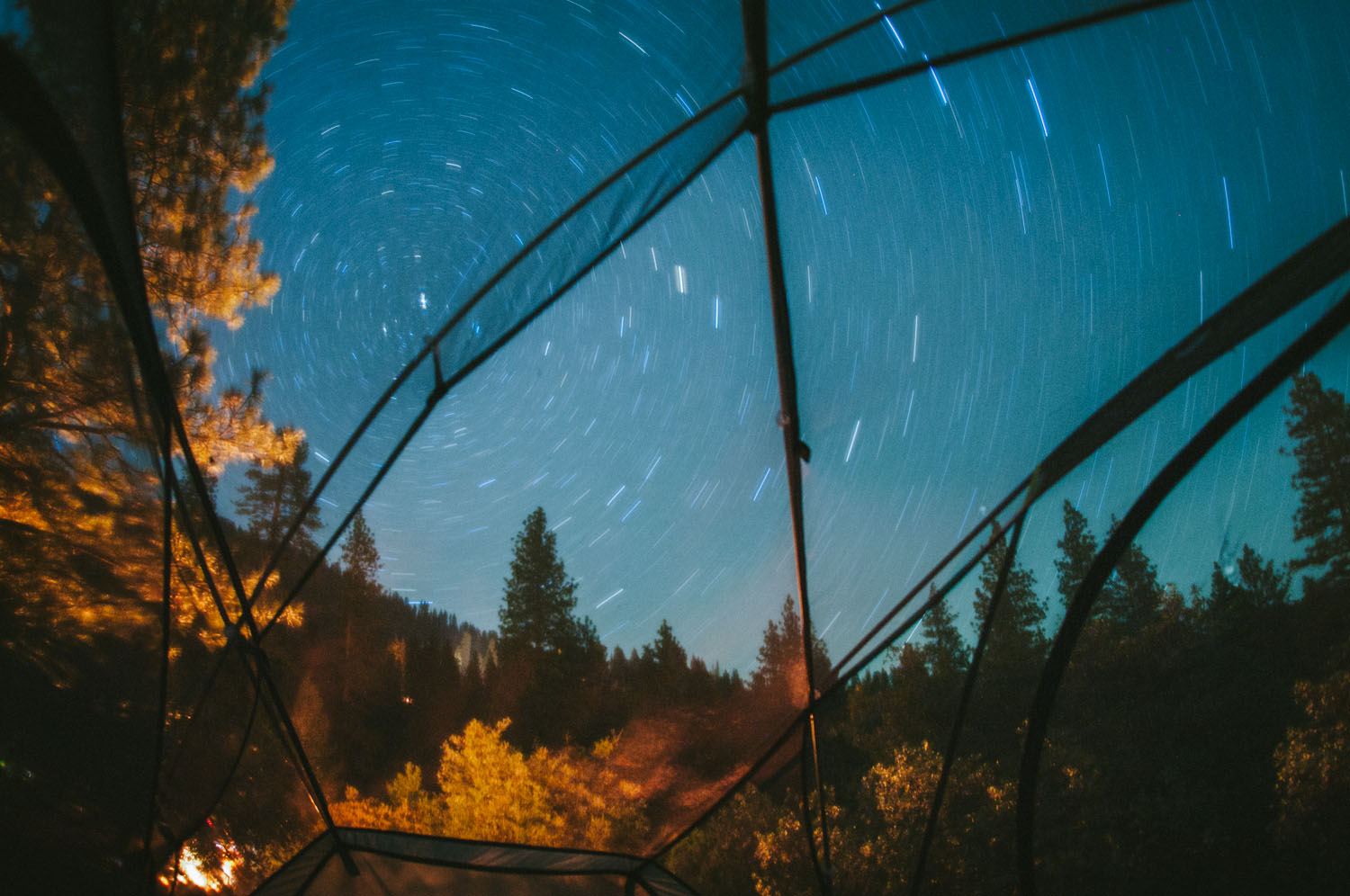 No use for the rainfly – with the heavy rain behind us there was no way I was blocking out the sun and stars. Being set up on top of a rock negated any use for the stakes so I went with the old school technique of 4 smaller heavy rocks for tent stability.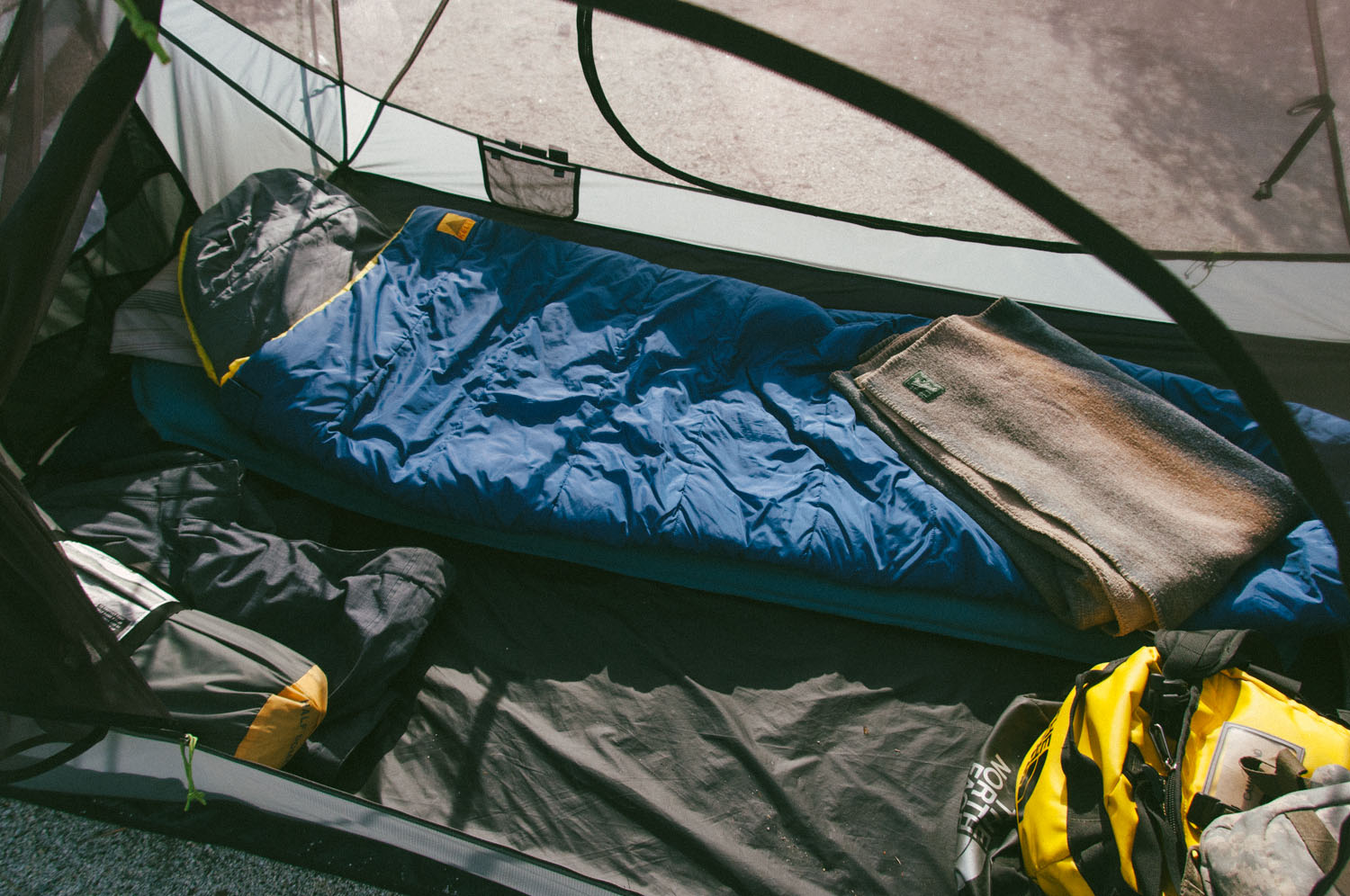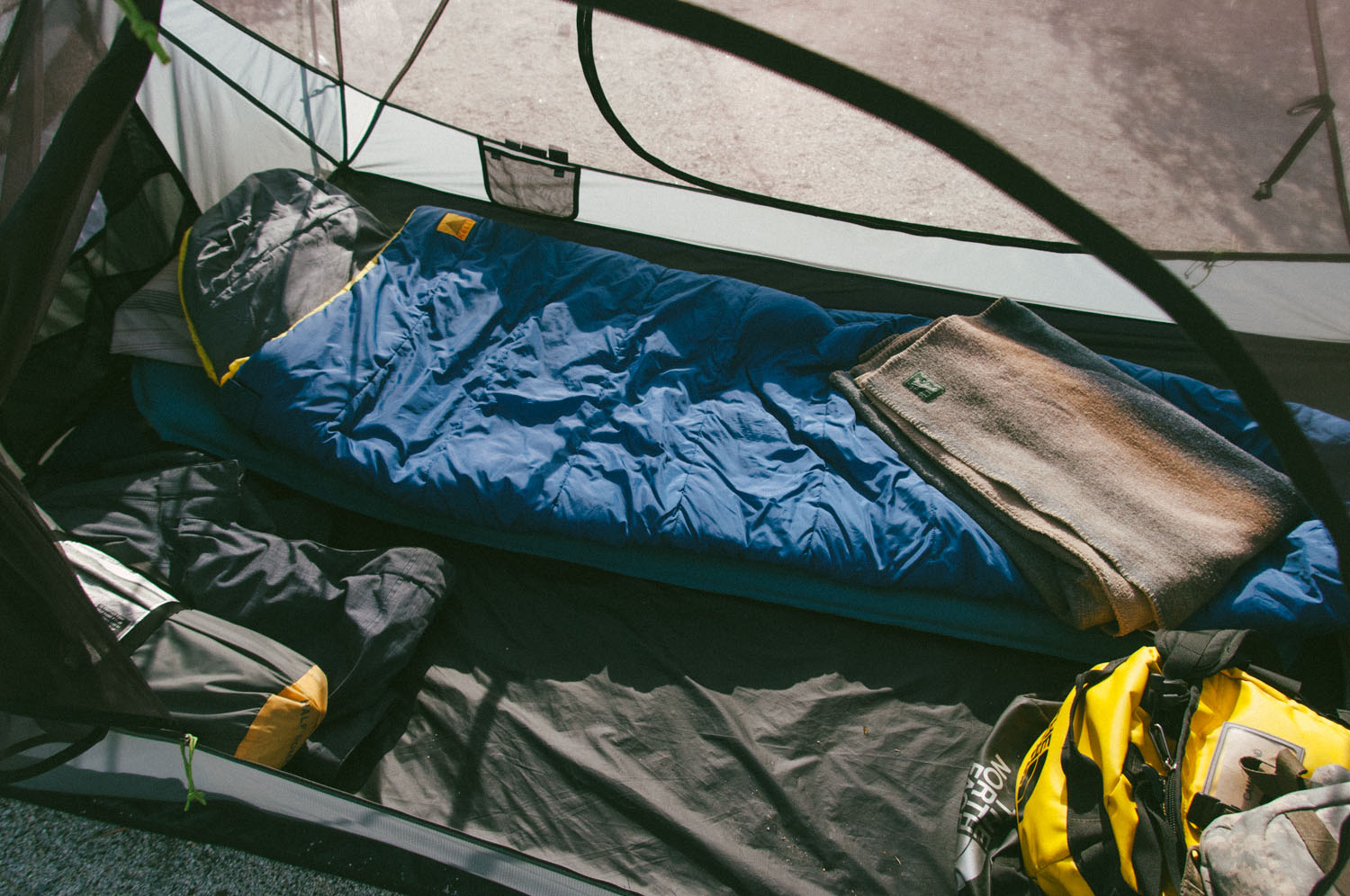 Basic inside set up of a Fox Outfitter mattress (super f'n comfy) and a Kelty sleeping bag (warm as hell), with all other clothes & gear in the North Face Base Camp Duffels. Oh yea, the Hozuki Lantern too – definitely one of the better camp lamps on the market but falls apart quite easily (minor issue).
I added a Woolrich fleece blanket for the colder nights, and even busted out the Wigwam Wool socks for the occasion (rare, but who the f*ck likes sleeping with cold feet?!).
No complaints with any of the gear on this trip, performance was on par.
Food
I love food (doesn't everybody?) and the magic that comes from our kitchen is a luxury. This trip saw many breakfast burritos (w homemade tortillas) and fresh salads, with the occasional round of crepes. Tea or coffee usual accompanies each day too (*do not use lots of leftover Sour Patch Kids sugar in your coffee! I tried it once, no bueno).
Shout out to Rosa Brothers Farm – found locally in the central valley of California, their milk is perfect and the best I've had on the west coast by far. When that sh*t is around you know I'm crushing some cereal.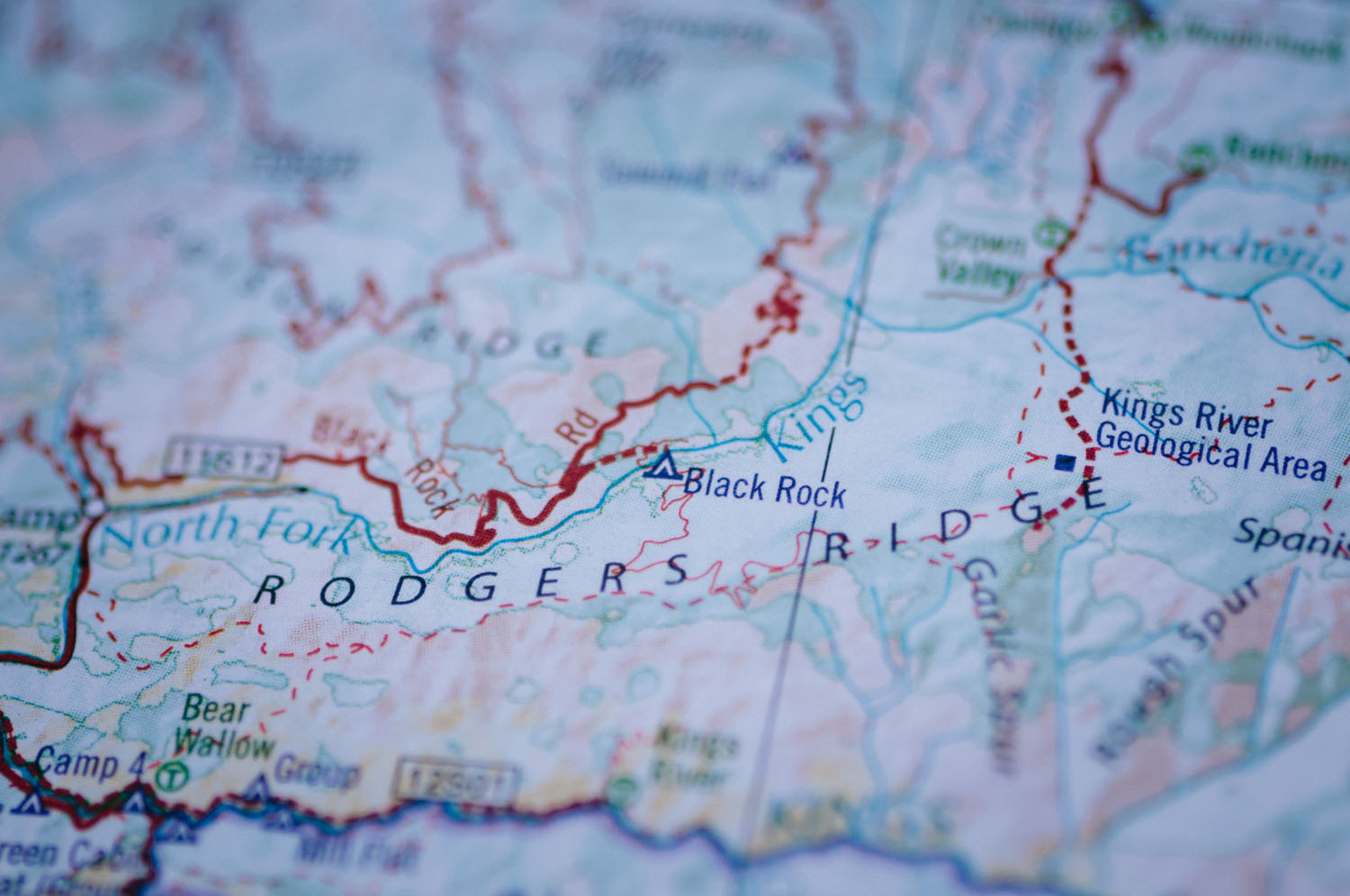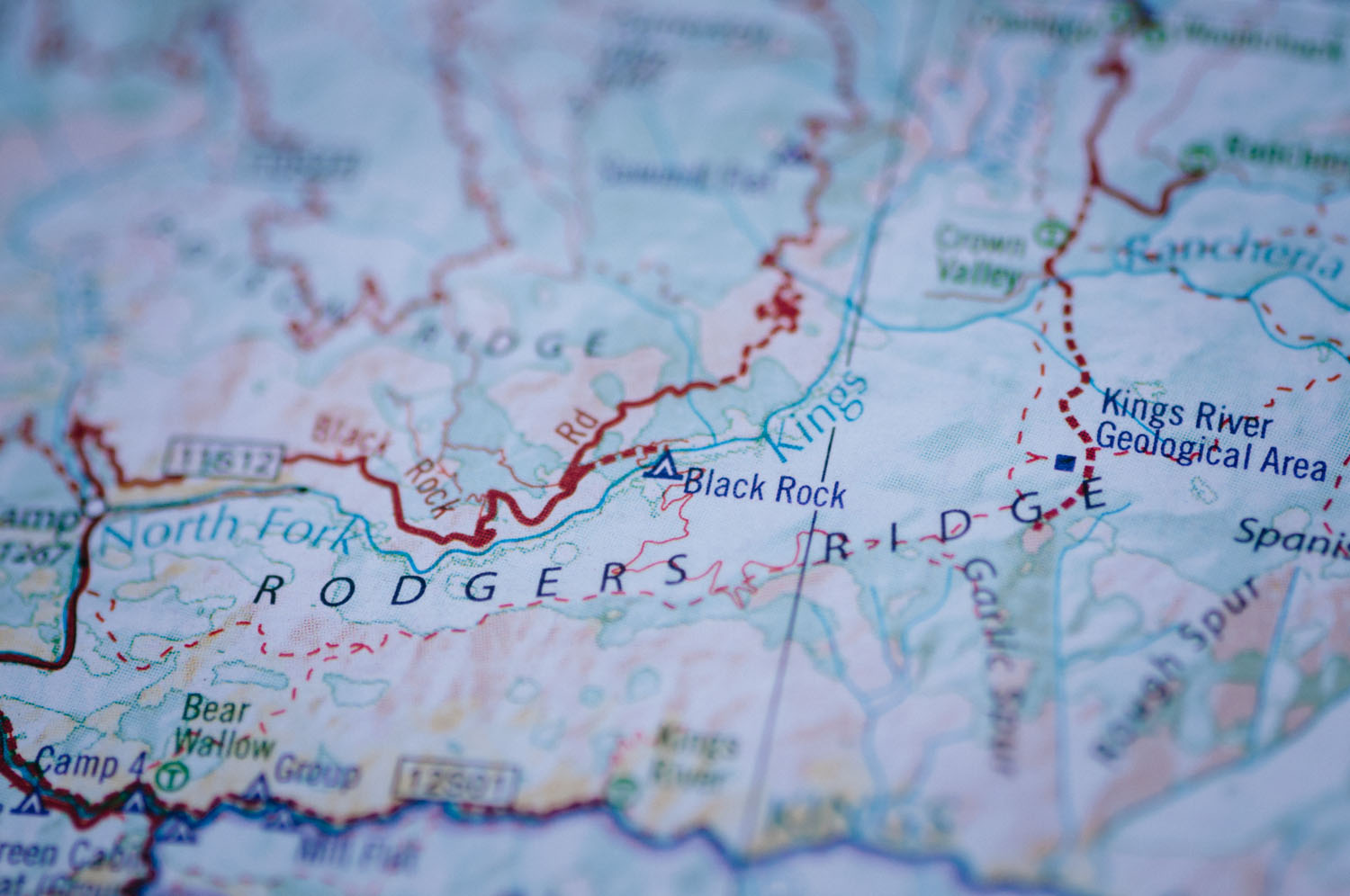 Final Thoughts 
Overall, this campspot was legit. Aside from a hasty steep-rock decent to retrieve necessary production gear out of the reservoir (that I dropped), everything was a positive experience. Water was too cold for swimming but will revisit the area in the warmer months specifically for that reason.
Due to some closed roads (frustrating!) we got a second viewing of the epic drive back down #11S12 (aka Black Rock Rd) – the ideal end to incredible couple days of camping in the Sierra Mountains.
Where to next? No clue, that's the fun part!
There'll be new edition of TentLife when I know – stay tuned!
Got some suggestions for a future edition of TentLife? Leave 'em in the comments section below.
Location
[st_gmap latitude="36.922185″ longitute="-119.020110″ W" zoom="10″ height="400″ width="850″ maptype="TERRAIN"]
Helpful Links:
More Info about Black Rock Reservoir
Author Carl Christy [st_social_icon name='social_instagram' href='http://instagram.com/road_cutz' target='_blank' align='ss-none']
Photography Mark Christy [st_social_icon name='social_instagram' href='https://instagram.com/campbycamp/' target='_blank' align='ss-none']